After years of working in various positions in multinational IT companies, Robert sees the power of a company in its people. He is not someone who throws in the towel but instead tries to work with reality as it is and turn problems into opportunities. In the interview, you will also learn how individual growth is tied to project and company development.
To start, tell us about your beginnings in IT.
The reason I find myself in the IT field today traces back to the classic rivalry between a son and his father. My father worked as a technician, so our home was always brimming with electronics. Back in the analog era, my father regarded IT and computers as fleeting trends.
My first computer was the Sinclair ZX80, which had one kilobyte of memory, a membrane keyboard, and was connected to a black-and-white TV (laughing). I was about ten years old when I started programming in BASIC. Although development intrigued me, my inclination toward working with people led me to pursue studies in industrial engineering. After school, I started as a developer but quickly switched to project management.
I first encountered SAP in 2002 and stayed with it for over 10 years. During that time, I spent some time abroad in various positions, from SAP consultant to SCRUM master, and eventually an account or delivery manager.
You decided to leave foreign countries behind, settle in Slovakia, and eventually shift your focus from SAP to more traditional technologies.
After years of being immersed in SAP technologies, I felt I needed a change. I transitioned to a multinational IT company, where I was entrusted with critical projects. This meant putting in meticulous effort with clients, whether it was to keep existing partnerships on track or kickstart exciting new ones. In 2019, we accomplished remarkable milestones with a significant international project, during which I also took on the responsibility of identifying growth potential within our project portfolio.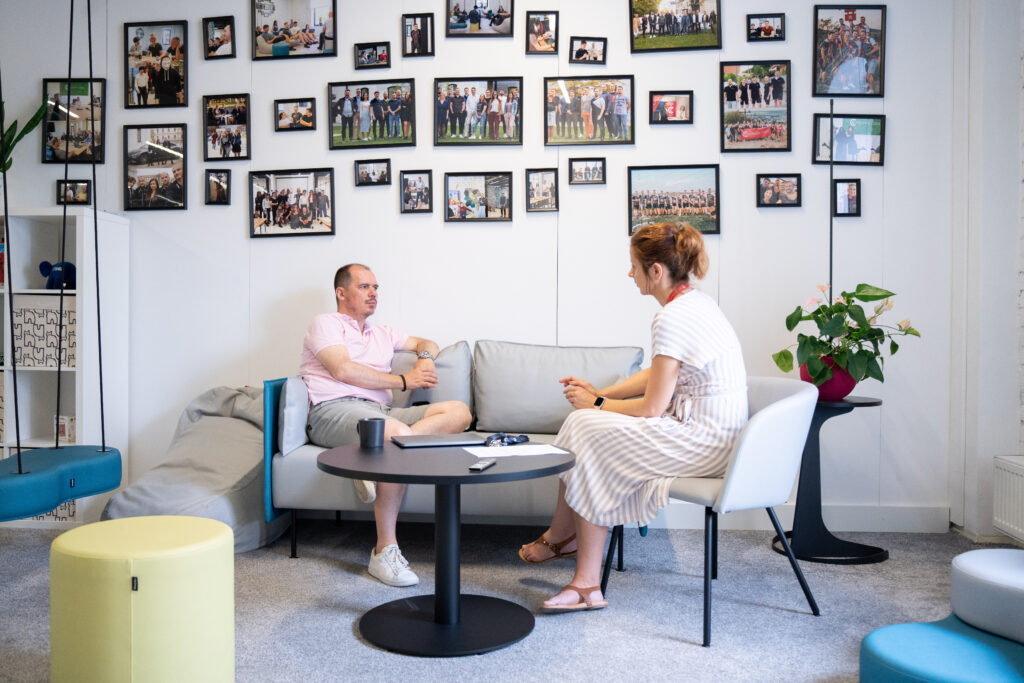 You have gone through various tasks and positions. Can you now say which one suits you the most?
What suits me the most is being the bridge between the client and the team that solves their requirements. It's about not only understanding what the client wants and needs but also exploring how we can assist them with our full range of capabilities. Moreover, the team itself often comes up with ideas for advancing the project. The ideal scenario is when the client's needs align perfectly with what we have to offer. I genuinely enjoy the pursuit of this synergy – finding partners on both sides who function seamlessly as a unified ecosystem.
You've had work opportunities abroad, spending time in Austria, Germany, and the USA. What drew you back to Košice?
People. I've always found friends and colleagues right here, forming a fantastic team of individuals who have supported me. Our city is a perfect fit for me, not just because of its size but also because of the abundance of talented and hardworking IT-focused folks. If I were to sum it up, it's the genuine human connection, openness, concentration of talent, and the wealth of opportunities available – these are the very reasons why I choose to remain in Košice.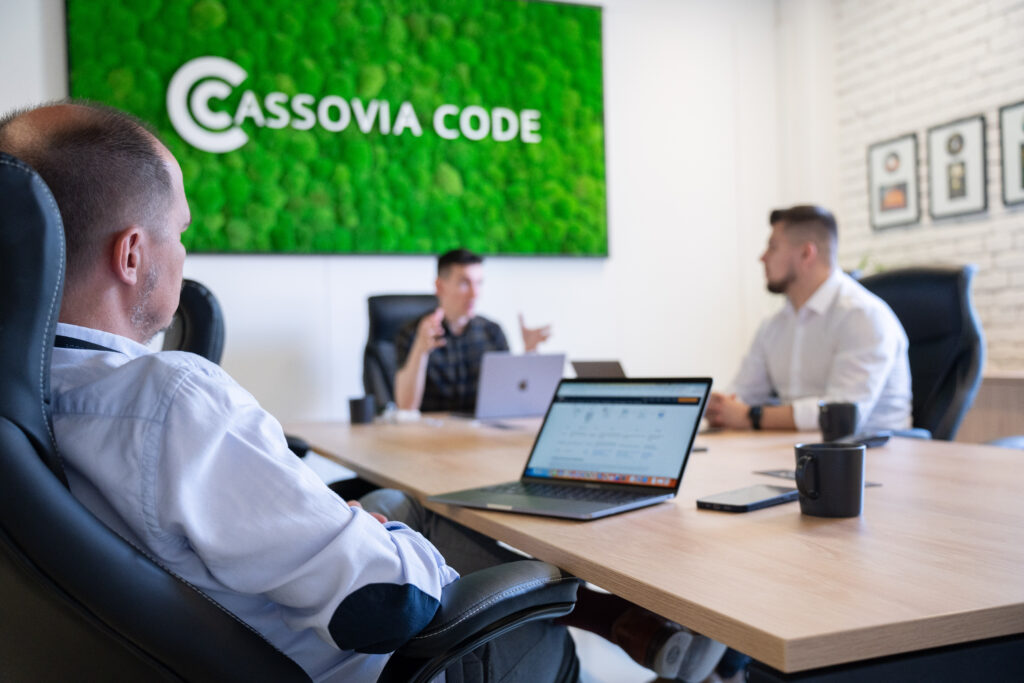 As the number of foreign companies increases, so does the competition in the job market. You mentioned that Košice has plenty of IT talents, but it can be challenging to meet the ever-growing demand. How does a local company like Cassovia Code manage to compete with the conditions offered by well-known foreign employers?
Our company culture sets us apart. I'm not saying it's better or worse than corporate culture, but it's definitely distinct. For instance, many companies strive for growth, and so do we. However, our approach to growth is quite exceptional. We first focus on recognizing our team's strengths and identifying their growth potential. Then, we tailor our company's direction and the challenges we tackle for our clients to align with each individual's aspirations. This way, company growth becomes personally meaningful to them, and their mindset naturally shifts to a customer-centric approach.
Large corporations often have rigid technological standards, and technologies can be quite locked in. In our case, we prioritize quality standards rather than specific technologies. Regarding technology, we have the freedom to experiment and explore new things. We must stay updated with the latest trends and seize the opportunities they present.
The role of Chief Growth Officer (CGO) is one of the key positions that has gained prominence in companies only in recent years.
Having a CGO in the company's organizational structure indicates that it recognizes the vital importance of harnessing synergistic power among all departments. Moreover, it embraces a growth mindset that extends beyond internal revenues, focusing on the growth of its customers. The CGO brings invaluable insights into the customers' vision, strategies, and goals, aligning them with the capabilities and potential of its workforce. Technical proficiency is a must for a CGO, encompassing a deep understanding of technologies and the benefits they can deliver to customers. And, of course, keeping up with the latest trends is crucial.
So, from the perspective of a CGO, what are the top IT trends for 2023 that should be considered?
Undoubtedly, artificial intelligence is already reshaping the game. Companies must adapt to this trend and leverage the tools it offers to their advantage. Automation is another critical trend, enabling reduced human interaction and improved accuracy. Additionally, our perception of virtual reality and its applications, including e-commerce, is poised for transformation soon. Lastly, I must mention the potential game-changer of quantum computers, with their ability to revolutionize simulations, forecasting, and data processing. However, it remains a realm of science fiction for now.
In your career, you've experienced successful projects. However, you indeed encountered situations where companies faced stagnation. What do you believe are the main reasons for a company's inability to thrive or break free from this state?
There is no one-size-fits-all answer to this question. One potential cause could be the unwillingness to truly listen and understand customers' ever-evolving needs, influenced by technological trends. Both companies and their customers must continually move forward, adapt, and embrace change. Our role is to support customers in responding to these changes and effectively tackling upcoming technological challenges.
Another factor is people. Today, it remains crucial that we don't settle for the current state but seek ways to move forward, learning new and more advanced technologies. Ideally, at a certain point, we should specialize based on where our people have the most experience and what makes sense to them. As individuals grow and develop, projects flourish, quality improves, and the entire company experiences growth.
How about software giants like SAP? Some often see it as a dinosaur on the brink of extinction. However, it's very much alive and kicking, and when it comes to enterprise information systems, it reigns without any real competition.
t's true that the programming language ABAP, unique to SAP, holds limited applicability elsewhere. However, SAP's strategic acquisitions have brought forth a variety of applications built on cutting-edge technologies like Fiori, Angular, and Java. For instance, SAP Commerce runs seamlessly on the latest Java version. This demonstrates that SAP remains a compelling and forward-thinking force, both embracing new trends and maintaining the stability required for robust systems.
Can you share a tip on how to foster a growth mindset within a company?
Setting clear goals and establishing a well-defined strategy is essential in pursuing progress. By doing so, we not only measure our performance but also adapt and fine-tune our approach to ensure continued success. Consider implementing an IDEA BOARD — a dynamic space where innovative ideas for improvements, new projects, and collaborative opportunities with clients converge. By capturing these ideas promptly, we harness the collective creativity and skill within the team, fueling the company's growth and driving us closer to our aspirations.
Currently, Cassovia Code is focusing on expanding beyond the Czech Republic and Slovakia borders. How can we assist international clients?
Our expertise lies in SAP Commerce Cloud, which sets us apart. In Central Europe, only a few companies possess the capabilities to implement and deliver comprehensive services for this cutting-edge e-commerce platform. This has enabled us to forge collaborations with multinational firms that leverage SAP but need more specific know-how for SAP Commerce. It's a demanding technology that tests us across all facets, from client interactions and streamlined processes to hands-on programming. Our team members have been fortunate to seize this remarkable opportunity and develop into true SAP Commerce experts. However, we also prioritize flexibility and eagerly embrace fresh challenges because true growth lies in adapting, innovating, and embracing novel challenges as they arise.